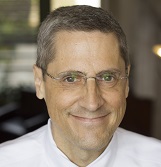 I started my legal career as a Law Clerk for the Honorable Charles B. Blackmar, a Justice with the Missouri Supreme Court and former professor at St. Louis University School of Law. I went on to practice as a trial attorney for the Commercial Litigation Branch of the United States Department of Justice in Washington, D.C. Following this position, I served as a Federal Prosecutor with an emphasis on prosecuting white collar crime, including bank fraud.
After leaving the government, I practiced law at Armstrong, Teasdale, Schlafly & Davis, the third largest law firm in the State of Missouri, where I focused on the areas of commercial litigation, personal injury defense, and white collar criminal defense. I opened my own law firm in 1988.
I attended St. Louis University School of Law where I was the Editor In Chief of the St. Louis University Public Law Review and received the American Jurisprudence Award. I attended college at the University of Missouri St Louis where I graduated Magna Cum Laude and received the Stuart and Evelyn Symington Scholarship Award (former U.S. Senator Stuart Symington).
Experience and Proven Case Results
For over 20 years, I have been a practicing trial attorney. I have litigated and tried cases on behalf of the NASA, the United States Air Force, the Mine Safety and Health Administration, the Motion Pictures Association of America, and Fortune 500 Companies. Most importantly, I have represented individuals just like you against some of the largest corporations in the world.
In 2003, I was recognized by the National Law Journal as National Litigator of the Month for obtaining an $18 million dollar jury verdict involving the death of a child. The Missouri Lawyers Weekly has listed me in the Top 10 jury verdicts in the State of Missouri. In 2011, The Dysart Law Firm, P.C. settled a case for $39.5 Million.
I want to represent you and use all my past experience and knowledge to help you solve your legal problems and see your case through to a favorable result. It will not cost you anything to speak with me about your case. Call me day or night or contact me online to schedule a free initial consultation.
The Team Approach to Your Case
My firm, when appropriate, may work together with other law firms around the country to make sure we are on a level playing field with giant corporations. If used, this team approach will be done with your knowledge and consent and will not cost you any more than hiring a single attorney or law firm. Moreover, if the team approach is used, I will still personally assist you with every aspect of the case.
To learn more about motor vehicle accidents or my firm, I encourage you to view our educational accident videos about car accidents, motor vehicle product liability, and pedestrian accidents.  We also feature on this website a number of truck accident videos.  I also encourage you to read the many informative articles about motor vehicle accidents on this website.